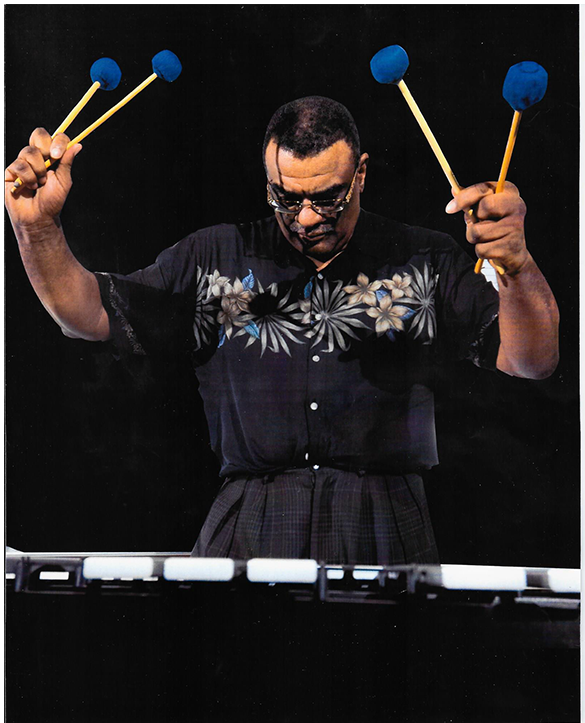 Joe Chambers connects jazz, Latin, and African on vibrant "Dance Kobina" (album review)
Glide Magazine
---
By Jim Hynes   I  Feb. 2, 2023
The legendary Joe Chambers issues a vibrant, expansive complement to his 2021 Samba de Maracatu with Dance Kobina. This sonic complement marks further exploration and realization of Afro-Cuban guanguanco (pronounced "WA-wan-co"), a subgenre of Cuban rumba, combining percussion, voices, and dance.
While there are no human voices, , Chambers employs instrumentation that creates beaufiful harmonics on most tracks through the combination of piano, vibraphone, and saxophone, not unlike Christian McBride's Inside Straight. Yet, Chambers' music is coming from a completely different place, consistently infused with either Latin or African percussion. The album is a mix of originals from Chambers, Montreal-based pianist Andres Vial, former bandmate Joe Henderson, along with two trio pieces, one frrom Kurt Weill and the other from Karl Ratze.
Sessions took place in both New York and Montreal. Chambers' New York band comprises trio mates Rick Germanson on piano and Mark Lewandowskit on bass, as well as Cuban percussion master Emilio Valdes Cortes and Marvin Carter on alto and tenor saxophones. Montreal personnel includes Caoilainn Power on alto saxophone; pianist Andrew Vial – who called the session and serves as co-producer on three of the nine tracks; Michael Davidson on vibraphone; Ira Coleman on bass; and Congolese artist Elli Miller Maboungou on percussion. The album is balanced symmetrically with the opening and closing piece from Chamber's New York trio, The thread that runs through both sessions offers explicit and implicit expressions of guanguanco and related traditions.
Chambers kicks off with a tune that he's likely played a thousand times as "This is New" appeared on Chick Corea's 1966 recording "Tones for Joan's Bones" on which Chambers was the drummer. Here the tune serves as an introduction not only to the New York trio, but to Chambers doubling on drums and vibraphone, which he does on six of the nine tracks. Vial's title track, "Dance Kobina," though is the first that incorporates African rhythms, specifically a vibrant bembe groove that sets the record's tone. Here Chambers i on drums while Davidson is on vides. Davidson states the initial melody before leaving space for the others before Vial takes the lead and Chambers maintains the groove. Prominent throughout is Maboungou's Ngoma drums. While the tune had no title at first, Chambers eventually landed on "Dance Kobina" as a kind of homage to the African drums. In Lingala, a Bantu language is spoken in the Congo, "kobina" means "to dance."
Carter is featured on the quintet piece "Ruth," a Chambers original that was previously recorded on his 1998 Blue Note release "Mirrors," his first as a leader for the label. It's a moody, melancholy piece, buoyed by Germanson's piano and Cortes' bubbling Latin percussion. "Caravanserai" is a fast rumba that brightens the temp with a quarter of rhythm players as Chambers' judiciously places vide notes weave in and out of glistening lines from the pianist and Cortes' syncopated beats. Vial's "City of Saints" begins with an intro from Coleman on bass and the Ngoni drums, setting the rhythm for extended floating lines from Power's also and Davidson's vides. Coleman and Chambers man the bottom end, setting a pulse in 5 for the artists to improvise around in the vein of Miles Davis's "Sanctuary."
"Gazelle Suite," another of Chambers's composition, is the most explicitly rhythmic piece in the album as Chambers on the drum set centers contribution from mariimba, Bombos Legueros, and the Ngoma drums. Davids, Power, and Vial ride above he scintillating beats. On the trio piece "Intermezzo" Chambers on vides sets up some loose harmonic ideas that lead directly into the bursting rumba of Joe Henderson's "Power to the People," where Carter appropriately switches to tenor, playing with passion and aggression. As indicated the album concludes with the New York trio rendering "Moon Dancer," another lyrical statement where with a much subtler influence of guaguanco.
For more information contact Cem Kurosman at Blue Note Records
(p) 212.786.8634 (e) cem.kurosman@umusic.com