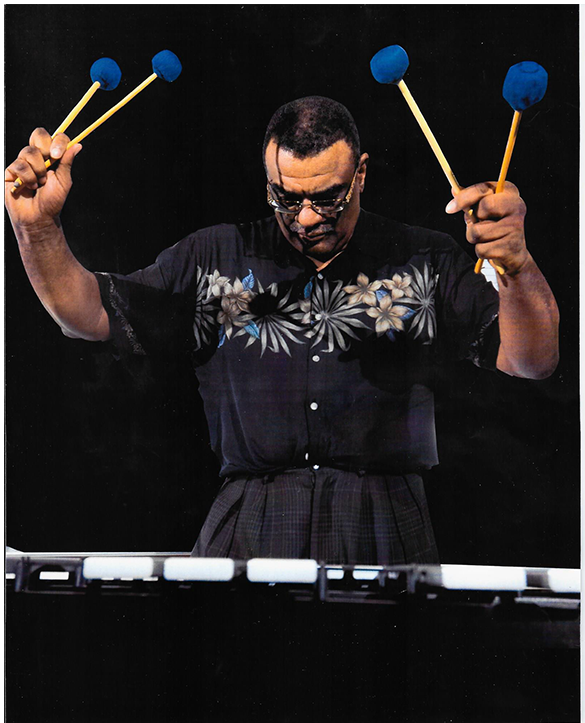 Joe Chambers Heads Back To Blue Note
News The Latest From Around The Music World
---
By Phillip Lutz   I  Feb. 18, 2021
Percussionist Joe Chambers, 78, had returned to New York to record a Blue Note leader date—but then the pandemic hit the city.
Mallet master and composer Joe Chambers found his footing in 1963, when he moved to New York and built a reputation as a first-call drummer for Blue Note's stable of stars, among them Freddie Hubbard, Wayne Shorter and Bobby Hutcherson.
"I didn't really learn how to play until I came to New York," Chambers, 78, said over Zoom during December from his home in Wilmington, North Carolina. "I learned what swing was all about, what drive was all about."
It was ironic that, in March, just as he had returned to the Big Apple to record his first Blue Note album in 22 years, the pandemic hit the city and he had to head back to the seemingly safer confines of his Wilmington home.
"New York got ridiculous with the virus," he explained. "I said, 'Later for that.'"
But all was not lost. Determined to deliver his album, he replaced New York pianist Rick Germanson and bassist Ira Coleman—both of whom appeared on his previous album, 2016's Landscapes (Savant)—with, respectively, North Carolina-based Brad Merritt and Steve Haines. In April, Haines said, he and Merritt received notes on the music from Chambers. In June, fully masked and socially distanced, they laid down tracks in a North Carolina studio. The album, Samba De Maracatu, is set to be released Feb. 26.
"Because of the virus everything was sort of thrown together," Haines lamented, even as he praised Chambers' ability to draw on his experience and fashion a satisfying outcome. "The thing about Joe is, he's got a tremendous width and depth of knowledge of music."
That knowledge is reflected throughout the nine-track collection as Chambers—his vibraphone and percussion, layered over previously recorded piano, bass and drums—recalls key collaborations. The disc revisits "Visions," from Hutcherson's album Spiral. On the new recording, Chambers, behind the vibes, reveals a rich tone and modernist sensibility that echo without imitating his former boss.
"Bobby always had his own sound on the instrument, more than Milt [Jackson] or Lionel Hampton, from the old school," he said.
Chambers took up the vibraphone in 1970, when Max Roach asked him to join his new percussion ensemble M'Boom. Under Roach's guidance, Chambers and the group's other members gathered at Warren Smith's studio on West 21st Street in Manhattan for a year of Saturdays to become proficient on a range of percussion instruments. Chambers, whose first instrument was piano, took to the vibes immediately. "It was just a matter of getting the sticking," he said.
On Samba De Maracatu, that labor is still bearing fruit on a Chambers contribution to M'Boom's book, "Circles." The tune appeared on M'Boom's 1984 album Collage, and Chambers' new treatment parallels the format of the earlier version, employing a Bahian rhythm with mixed meters, modal harmony and a sonorous improvisation in which the overdubbed vibraphone and piano play "together."
If the new album has an outlier it is "New York State Of Mind Rain." The tune brings to the fore a fragment of Chambers' "Mind Rain" that rapper Nas sampled for his 1994 hit, "N.Y. State Of Mind." The tune first was heard as a mindbending keyboard duet with organist Larry Young on 1977's Double Exposure. The new album's spin-off, a belated response to Nas, incorporates a rap that was smartly penned by his son, Fenton Chambers, and slickly executed by MC Parrain.
A stylistic counterweight to that track is singer Stephanie Jordan's dreamy take on "Never Let Me Go." Floating over Chambers' subtle bolero, Jordan's voice projects the kind of captivating appeal that could land her a spot in a future large-scale recording project of Chambers'—pending, he said, the easing of public-health concerns.
By Michael Toland   I  Feb. 26, 2021
The career of drummer Joe Chambers stretches back to the early sixties, when his rhythm work was a staple of many a Blue Note LP. He logged time with Bobby Hutcherson, Wayne Shorter, Freddie Hubbard, Andrew Hill, Donald Byrd and more, plus gigged with Hugh Masekala, among others. Though it was his kit and vibraphone work that paid the bills, the seventy-eight-year-old Virginia native is also a conservatory-trained composer, though it took him a while to make records under his own name. Samba de Maracatu is only his thirteenth album as a leader in the nearly fifty years since his 1974 debut The Almoravid, and his first for Blue Note since 1998.
With a name like Samba de Maracatu (a reference to the syncretic music originating from the Pernambuco providence), one might expect an album heavily influenced by Brazilian music. And while that's a fair statement, anyone expecting a bossa nova record might be disappointed. Chambers and his cohorts Steve Haines (bass) and Brad Merritt (keyboards) take the swaying rhythms of that country and weave them into hard and post bop compositions, whether classic or Chambers' own work. Karl Ratzer's "Sabah el Nur" swings hardily with just a tinge of Latin groove, powered by Merritt's piano chording and Chambers' lusty vibraphone. Chambers hits up the catalogs of his peers for distinctive takes on Horace Silver's "Ecaroh," intro'd by some lush vibes, Wayne Shorter's "Rio," given an almost freeform reading over bossa nova sway, and the luminous "Visions*, from the catalog of Chambers' old pal Bobby Hutcherson. In the standards arena, the trio gives the Broadway hit "You and the Night and the Music" a pulsing makeover, while the Jay Livingston/Jay Evans piece "Never Let Me Go" serves up sugar and spice with guest vocalist Stephanie Jordan.
Chambers also brings two eras and traditions together with "New York State of Mind Rain," a mash-up of rapper Nas' "New York State of Mind" and his own "Mind Rain," which was sampled by Nas on his hit. With guest vocals by MC Parrain, Chambers updates both tunes for the twenty-first century without doing anything so obvious as a rap/bop mashup. The title track is possibly the finest track on the record, showcasing the leader's melodic writing and the band's magnificent chemistry. No nostalgia trip, Samba de Maracatu brings Chambers back home without being a retro exercise in any way.