M'Boom
M'Boom was the brainchild of Max Roach, the late percussionist, visionary, and seminal figure of modern jazz. In 1970, Roach gathered six notable drummers – percussionists to explore and compose for the myriad instruments in the percussion family and named the group "M'Boom." M'Boom (pronounced 'em-boom) has a double meaning: it is an onomatopoeia, or "sound word" that sounds like the object of description, i.e. boom, pow, crack, etc., it is also the name of a secret order of drummers in Northern Senegal.
Percussion has the widest range of timbre (tone color) than any family of instruments associated with ensembles in western culture, i.e. wider than (reeds) in a jazz orchestra, wood winds, brass or strings in a modern Symphonic Orchestra.
Percussion directly connects to "world music" as it embodies instruments, musical forms and elements from Africa, Caribbean, Asia, South America, and Europe.
Beginning in September 1970 and continuing through September 1971, M'Boom rehearsed every Saturday discovering and learning all categories and combinations of percussion. In the summer of 1972, M'Boom embarked on its first European tour. Subsequent tours followed; France, Belgium, Netherlands in 1973; Germany in 1974; Italy, Spain and France in 1977 and 1978. The 1980's was particularly productive period with tours continuing to Europe and college campuses and beginning of recording activity; the first album entitled M'Boom Re-Percussion, RVC-RVJ6001, in 1980; M'Boom, Columbia Records-1981; College Soul Note 1984; M'Boom live at S.O.B.s Mesa Blue Moon-1992; After Max Roach's death in 2007, and the death of three other members, Joe Chambers, Warren Smith and Ray Mantilla vowed to fulfill the vision originally planned for M'Boom.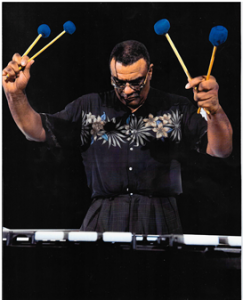 Joe Chambers has worked with some of the most influential jazz figures of the last several decades and is a recognized perfomer and composer whose works have been performed at Carnegie Hall and Lincoln Center. As a sideman and leader, Chambers has recorded more than 500 albums and CDs. He has performed and recorded with Miles Davis, Freddie Hubbard, Wayne Shorter, McCoy Tyner, Chick Corea, Sonny Rollins, Herbie Hancock, Dizzy Gillespie, Andrew Hill and many more. Chamber's credits include Hubbard's "Breaking Point," Hutcherson's "Components," Shorter's "Schizophrenia." and "Etcetera," Hill's "Compulsion," and Tyner's "Tender Moments," as well as Archie Shepp's "New Thing at Newport," Charles Mingus' "Like a Bird," Chick Corea's "Tones for Joan's Bones," and many others. Chambers' compositions have been covered by Hutcherson, Hubbard and M'Boom; he has also contributed to soundtracks for several Spike Lee films, including "Mo' Better Blues." Chambers is the first Thomas S. Kenan Distinguished Professor of Jazz in Department of Music at the University of North Carolina Wilmington. His most recent recording is "Joe Chambers moving pictures orchestra live" of Dizzy's Club Coca-Cola in New York City, Savant 2120, released May 2012 and was nominated for a Grammy in 2013.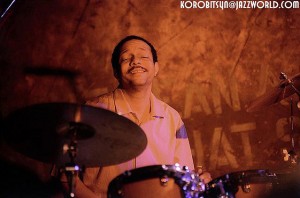 Eli Fountain joined M'Boom in 1981. He has performed with Muhal Richard Abrams, the Temptations, Aretha Franklin, Geri Allen, His compositions include the percussion ballet "Play," written for New York's Complexions Dance Company and has also served as music director for Yale Repertory Company production of King Lear.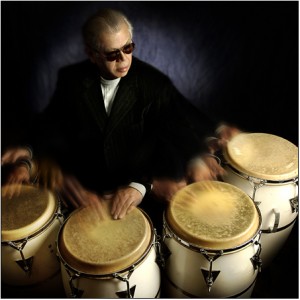 Ray Mantilla entered the international spotlight in 1960 with flutist Herbie Mann, and later embarked on a series of national tours with Art Blakey and the Jazz Messengers in Europe and Japan. In 1977, Mantilla became the first North American Latin musician to play in Cuba since the Cuban Revolution. Mantilla has recorded on more than 200 albums. Some of his credits include Max Roach, Charles Mingus, Ray Barretto, Gato Barbieri, Sonny Stitt, Bobby Watson, Herbie Mann, Tito Puente, Cedar Walton, and Freddie Hubbard. In 2003, Mantilla signed with Savant Records and released his first record for the label, "Man-TiYa."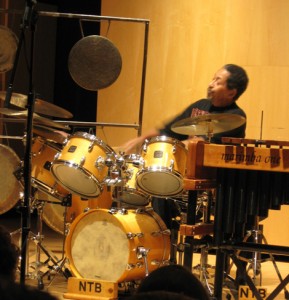 Warren I. Smith has performed extensively in the studio and on Broadway. As the 1960's and 70's progressed, Smith found himself working amid a flourishing mass of creative personalities in the Motown music scene, empowering his already articulate voice within the jazz community; live performances, recordings, and tours with figures like Dionne Warwick, Nat King Cole, Harry Belfonte, and Aretha Franklin all became part of Smith's credits through 1978. Concurrently, Smith began teaching at Adelphi University in 1969 and alter at the State University of New York in Old Westbury from 1971-1996. He has remained a prominent percussionist and drummer within the jazz world.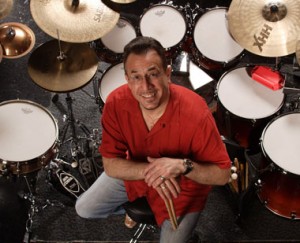 Bobby Sanabria – drummer, percussionist, composer, arranger, recording artist, producer, filmmaker, conductor, educator, activist, multi-cultural warrior and 7X Grammy nominee as a leader–has performed with a veritable Who's Who in the world of jazz and Latin music, as well as with his own critically acclaimed ensembles. His diverse recording and performing experience includes work with such legendary figures as Dizzy Gillespie, Tito Puente, Paquito D'Rivera, Charles McPherson, Mongo Santamaría, Ray Barretto, Marco Rizo, Arturo Sandoval, Roswell Rudd, Chico O'Farrill, Candido, Yomo Toro, Francisco Aguabella, Larry Harlow, Henry Threadgill, and the Godfather of Afro-Cuban Jazz, Mario Bauzá. Bobby, the son of Puerto Rican parents, was born and raised in NYC's South Bronx.
In 2012 Maestro Sanabria was selected by the legendary jazz pianist Herbie Hancock to represent Latin jazz with his Quarteto Ache' as part of the first Annual UNESCO International Day of Jazz at the United Nations. His current new big band CD released in August of 2012 is entitled MULTIVERSE. Inspired by the writings of Mexican author Octavio Paz and the current scientific theories of multiple universes, it blurs the boundaries between jazz, Latin, funk, rock, r & b, gospel, the avant garde and even rap. MULTIVERSE has been praised by critics for its incredible multi-dimensional vision bringing the big band tradition into and beyond the 21st century. It was rnominated in 2013 in two categories for the mainstream Grammys: Best Latin Jazz Recording and Best Instrumental Arrangement, giving Bobby a total of seven nominations for the coveted award.
For Booking Contact
Rat Pack Music Srl
GIULIO VANNINI –
cell. +39 3457902481
Tel. e Fax +39 059 395508
email: ratpackmusic@alice.it
skype: giuliovannini